These Funnies Landed on the Desk of the Human Resources Director
These Funnies Landed on the Desk of the Human Resources Director
April 16, 2015
I have a graduate degree in unclear physics.
My hobbies include raising long-eared rabbis as pets.
My last job was as a plumbing and hating specialists.
I worked for 6 years as an uninformed security guard.
The academic scholarship I earned came with a plague.
Most of my experience to this point has been as a blue-color worker.
As part of the city maintenance crew, I repaired bad roads and defective brides.
My career goal is to shave my talents with a growing company.
This has reference to your advertisement calling for a 'typist and an accountant – Male or Female'… As I am both for the past several years and I can handle both; I am applying for the post.
As my mother-in-law has expired and I am responsible for it, please grant me 10 days leave.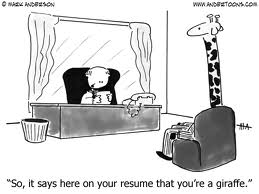 Previous Post: